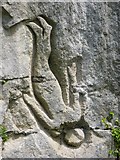 © Copyright Simon Palmer and
licensed for reuse under this Creative Commons Licence.
I don't know what got into me tonight but I fell twice in a course of a five point bout.  As Wilde said, once may be an accident, but twice is carelessness.  I'm still not sure how it happened,  I think I was doing a little half-lunge half-step and coming down on the outside of my right foot as I was falling straight over in front of myself. I didn't hurt myself, in fact I managed to roll over onto my back both times before hitting the ground which impressed me as it's a good 25 years since I did any martial arts. It must of been a little off-putting for my opponent (sorry, Eanna), although he still beat me.
Talking of which, tonight was the last night of poules for the épée competition – DE's take place next week. It was the usual win some, lose some. I'll try and post the seedings if I can get my hands on them before next week.
By the way, the picture is of The Falling Man a piece by Antony Gormley (of Angel of the North fame) in Tout Quarry Sculpture Park, Isle of Portland, Dorset, UK.